Achieve a beautiful special cat-eye effect with a colorful pearly shimmering finish! Use our Cat-Eye Magnet to create lines, circles, or S-curve effects!
Specifications:
Finish: Shimmer
Color: Pink, Purple (Dark Magenta)
Occasions: Party, Spring
Product Type: Special Effect Gel
Product Size: 0.5 oz (15mL)

MADE IN USA
Features:
✔ Highly pigmented
✔ Lasts up to 21 days
✔ Both UV/LED light cured

✔ Durable wear
✔ Soak off fast

✔ No damage to real nails
✔ Easy to Polish
✔ No shrinking or bleeding around the cuticles

Customer Reviews
Write a Review
Ask a Question
01/30/2021
Kate

Philippines
Remarkable in Color.
Very popstar Barbie. I love it!
01/16/2021
IG: @.

United States
Doesn't cat eye
I have tried CE70, CE63, & CE67 and literally none of them cat eye at all. That was the whole reason for mr buying them disappointed but cute color.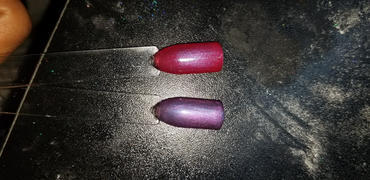 Oh my! Sincerest apologies for this occurrence, Jellynaildit. Please know that iGel Beauty cares, and would like to rectify this concern. Often demagnetization may occur during the shipment process. Kindly reach out to our email cs@igelbeauty.com so we may further assist you with your magnet. If interested, I have also placed our official iGel Beauty tutorial video below. Cat Eye Tutorial: https://www.youtube.com/watch?v=da0fT92bhXk&t=5s Best Wishes, Your iGel Beauty Family