"Get stronger, longer, more natural feeling nails with a durable finish and a shine that lasts! Our iGel Sculpture Gel is the hybrid you've been waiting for! A perfect combination between acrylic and hard gel, the best of both worlds.
Specifications:
Finish: Opaque
Color: Pink
Occasions: Party, Spring, Wedding, Winter
Product Size: 1 oz
Product Type: Sculpture Gel

MADE IN USA
Features:

✔ Can be used for both the Dip Method & Acrylic Application
✔ Cruelty-Free, Vegan, and 5-Free!
✔ Durable, Long-Lasting Wear
✔ Strengthens and Grows Natural Nails with Added Vitamins & Calcium
✔ No UV/LED Light required
Sculpture Gel Application Instructions:
1. Prep Nail.
2. Apply Gel Base, Cure.
3.  Attach Nail/Nail Form or use the dual form tip.
4. Wet the nail/tip with a 90% alcohol solution.
5. Apply the Sculpture Gel.
6. Top it off with a Top Coat.
Sculpture Gel Removal Instructions:
1. File down the shiny Top Coat.
2. Use Acetone to Remove the Sculpture Gel: Either wrap your nails in acetone-soaked cotton balls wrapped in foil for 10-15 minutes or soak your nails in acetone for 15-20 minutes.

Pro Tip: Before applying the acetone, rub petroleum jelly around your cuticle and fingertips.  It will keep the skin around your nails from drying out!
3.  Gently scrape off the softened Sculpture Gel with a wooden cuticle stick
4. Buff, Shape, and Nourish!
Related Blogs:
Sculpture Gel 101: Application, Removal, and Troubleshooting

MSDS Sheets:
Customer Reviews
Write a Review
Ask a Question
03/16/2021
Francia B.

United States
Best Ploygel Glow in the Dark.
Awsome first time using this polygel from Igel company and I have to say it's the best..So easy to work with..I will be purchasing again.
02/23/2021
Veronica J.

Canada
Fantastic pink
Great product easy to work with fantastic colour can't wait to use the rest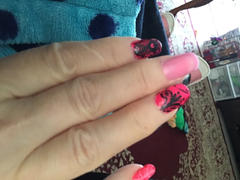 01/29/2021
Ashton S.

United States
Great product
My first time using and it was so easy to work with.