"Get longer, stronger, more natural feeling nails with a durable finish and a shine that lasts! Our iGel Dip & Dap Powder line is formulated without harsh chemicals and has added vitamins and calcium to strengthen your natural nails."

This dip & dap is so versatile - You can dip it, you can dap it, you can ombré, you can 3D design it - you can do it all! Available in 247 beauty-certified colors.
Specifications:
Product Size: 16 oz (448 g)
Product Type: Dip & Dap Powder

MADE IN USA
Features:

✔ Cruelty-Free, Vegan, and 5-Free!

✔ Non-toxic, Odorless and MMA-Free
✔ Lightweight and Durable
✔ No UV/LED Light required
✔ Easy to Use - Looks and Feels Natural
✔ Healthy Nails with Added Vitamins and Calcium
✔ Crack and chip-resistant
Dip Application Instructions:
1. Prep your nail with Bond to dehydrate the nail.
2. Apply Base Coat and dip the nail in powder at a 45 degree angle. Tap finger to remove excess and wait 30 seconds before brushing off the excess powder with a nail brush.  Repeat this step on the same nail until you get the color and thickness you desire.
3. Apply Activator to all fingers on one hand and wait at least 30 seconds.
4. Wipe each nail with a lint-free wipe to remove any excess activator.
5. File & Buff to your desired length and shape.
6. For a gorgeous long-lasting manicure, apply  Top Coat.

7. Apply Nourish Oil to rejuvenate the cuticles.
Acrylic Application Instructions:

1. Prep your nails with Ultra Bond Primer to extend the longevity of your manicure.
2. If you are seeking extra length - apply tips.
3.  Dip the brush into your monomer and push it all the way down to make sure the bubbles go away.  Then, brush it against the side of the bowl to remove excess liquid.
4. Dap your brush into the acrylic powder! You may have to practice a few times to achieve the correct ratio of liquid to acrylic powder.  It should be moist and spreadable, but not too wet.
5. Apply the bead to your nails.  Let air dry. You may test by tapping the surface of the nail with the handle of the acrylic brush. If it makes a clicking sound, it's ready for the next step.
6. Depending on your method of application, you may repeat steps 3-5 and apply another bead.  Otherwise, for a gorgeous long-lasting manicure, finish off with a Top Coat.
Dip Removal Instructions:
1. File down the shiny top coat.
2. Use Acetone to Remove the Dip: Either wrap your nails in acetone-soaked cotton balls wrapped in foil for 10-15 minutes or soak your nails in acetone for 15-20 minutes.

Pro Tip: Before applying the acetone, rub petroleum jelly around your cuticle and fingertips.  It will keep the skin around your nails from drying out!
3.  After Step 2, the manicure will flake off gently.
4. Buff, Shape, and Nourish!
Acrylic Removal Instructions:
1. Trim and cut off your acrylic nails.
2. Pour 100% acetone into a large bowl. Submerge your nails for 15-20 minutes.
3. Gently scrape off the softened acrylic with a wooden cuticle stick
Related Blogs:
6 Common Mistakes Beginners Make With Dip Method
12 Most Common Acrylic Nails Mishaps to Avoid
Acrylic Nails: Everything You Need to Know
Everything You Need to Know About Dip Powder Nails 

MSDS Sheets:
Customer Reviews
Write a Review
Ask a Question
Filter Reviews:
powder pink
collection
complaints
color
SE
03/29/2021
sherri e.
I recommend this product
Powder
Really beautiful color, lays like butter and very economical.
02/24/2021
alyssa m.

United States
I recommend this product
Love this color!
My favorite color from this whole collection. Such a beautiful powder pink!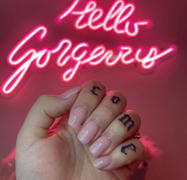 02/07/2021
Wanda B.

United States
I recommend this product
Lays like butter
No complaints