Customer Reviews
Write a Review
Ask a Question
Great
Awesome ! Stick stones right away
Great
I LOVE this jewelry gel. If you use it thick, your rhinestones will stick on for months. I love it!
A must have for your bling-y creations!
iGel Jewelry Gel holds the jewels in place well. It is tacky to touch. You can cure the jewels in little as 30 seconds or 120 seconds just depends on your lamp. I currently use a UV lamp (UV bulbs). It takes 120-180 seconds to cure them firmly. It's an older Royal Nails UV lamp/Fan dryer combo. I also take a fine-tip brush...dip it into the jewelry gel and place an extra layer of protection around the jewel.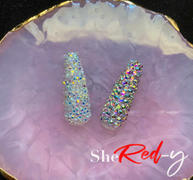 Great
Really good jewelry gel holds the rhinestones in place very nicely